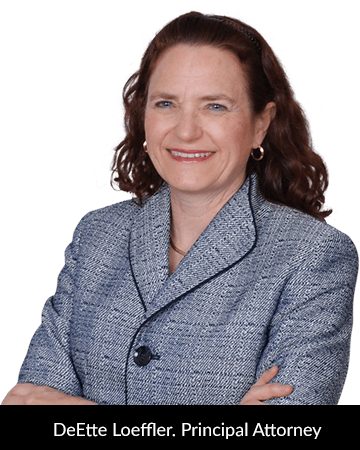 DeEtte L. Loeffler
Ms. Loeffler's practice includes tax planning for individuals and small business owners; estate planning, trust administration, business, real estate, and charitable planning. She helps her clients to minimize a variety of taxes, including property, income, gift, estate and generation-skipping taxes. She also works with small business owners, forming and maintaining entities, and advising them on tax issues.
Ms. Loeffler's estate services include counseling clients on their estate planning options, preparing documents to meet their individual needs, and assisting trustees, executors and family members to implement estate plans. She provides trust administration services and prepares estate and gift tax returns as needed. Ms. Loeffler also provides advice on charitable giving and prepares related documents.
Ms. Loeffler obtained her law degree, cum laude, from the University of Pepperdine School of Law at Malibu, and her LL.M. in Taxation from the University of San Diego School of Law, summa cum laude.
She has more than 30 years' experience providing legal advice to clients. Previous to forming her own firm in 2022, Ms. Loeffler was an associate at Gray Cary Ames and Frye, and later at Procopio, Cory, Hargreaves & Savitch, and was a partner at Miller, Monson, Peshel, Polacek & Hoshaw. She also served more than 20 years as a judge advocate in the United States Army Reserve, retiring as a lieutenant colonel.
Ms. Loeffler is the current Chair of the Tax Section of the San Diego County Bar Association and is a member of the following professional organizations: the Tax, and Trusts and Estates Sections of the California Lawyers Association; Tax, Trust & Estates, and Elder Law Sections of the San Diego County Bar Association; the Probate Attorneys of San Diego; the Estate Planning Group Network; ProVisors; and the Downtown San Diego Lions Club. She is currently serving on the executive committee of the Board of Directors of the San Diego Natural History Museum, and is on the Board of Directors of the Downtown San Diego Lions Club.
In her free time, she has been a Girl Scout leader, a Boy Scout merit badge counselor, and high adventure Venturing Crew leader. Her adventures with Scouting included hiking in Switzerland with the Girl Scouts, canoeing at Northern Tier in Manitoba, Canada with Venturing, and taking a co-ed Crew to Philmont Scout Ranch in New Mexico. She has been married to her spouse, Steve, for more than 30 years, and they have two adult children.
Education
University of San Diego School of Law, San Diego, California

LL.M., Taxation, summa cum laude

Pepperdine University School of Law, Malibu, California
University of Washington, Seattle, Washington
Bar Admissions
California
Affiliations
San Diego County Bar Association, Taxation Section Chair
Provisors, Member
Estate Planning Group Network
San Diego Natural History Museum Board of Directors (2016-2022); Secretary (2021-2022)
Downtown Chapter of San Diego Lions Club, Board of Directors (2017-2022); Secretary (2022-2023)
Publications and Presentations
San Diego County Bar Association, Federal and State Tax Update, San Diego, December 7, 2021
Association of Fundraising Professionals, San Diego Chapter, Maximizing Cash Gifts Through Planned Giving, San Diego, September 22, 2021
San Diego County Bar Association, Allocation of the Million Dollar Exclusion and How to Lose at the Assessor's Office, San Diego, September 1, 2020
National Business Institute, Estate Planning from A-Z: Basic Tax Planning and Updates, San Diego, June 9, 2020
National Business Institute, Estate Administration Boot Camp: Income Tax Returns; and Portability and Estate, Gift and GST Taxes, San Diego, June 12, 2019
National Business Institute, Trusts, the Ultimate Guide: Grantor Trusts and Tax Deduction with Trusts, San Diego, August 20-21, 2018
MOAA, Miramar Chapter, Overview of Estate Planning, April 5, 2018.
National Business Institute, Estate Planning from A-Z: Basic Tax Planning, San Diego, December 12-13, 2017
National Business Institute, Estate Planning from A-Z, Basic Tax Planning, San Diego, December 6, 2016
San Diego Planned Giving Partnership, Charitable IRA Rollovers, San Diego, May 16, 2016
California Probate Referee Conference, Appraisals and the 706, May 3, 2014
National Business Institute, Handling Assets of the Estate and Filing Taxes, San Diego, May 17, 2013